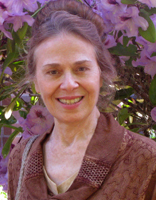 Rosalie Hurd
Rosalie Hurd, mother of five children raised on a vegetarian diet, has a degree in Home Economics with a minor in Education and Business. She is actively involved in the Ten Talents ministry promoting healthful vegetarian cooking and proper nutrition for over forty years.
Esther

BEST BURGERS EVER!

We came across your Super Sunburger veggie burgers at the Sweet Pea Vegetarian restaurant in Jellico, TN and thought, quite honestly, that they were one of the best veggie burgers we'd ever had! I spoke with the proprietor, who said you had recommended them to her. Within 2 hours I had a copy of your new Better Choices Cookbook also your classic Ten Talents Cookbook ordered for myself! This weekend I made a double batch of Super Sunburgers for our freezer and we had some for lunch yesterday. We all love them! I am eager to start trying other recipes ASAP. Thank you for all your hard work in putting together such a helpful cookbook.


Esther

my favorite book in my kitchen!

I LOVE this book and use it every day! My kids love all the beautiful pictures in it and ask to make something on every page! BETTER CHOICES is easy to use and the recipes are delicious and super healthy! This book is great if you want to make something that your whole family will love without spending the entire day cooking! This book is a must have for every home!!