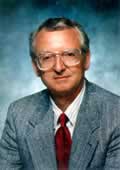 Leonard Brand
Leonard Brand has been a researcher and professor of biology and paleontology at Loma Linda University for 35 years. He has published research papers in scientific journals and articles in church magazines. He has a Ph.D. from Cornell University. Leonard lives in California with his wife and has two grown children.
Richard M. Davidson
Richard M. Davidson, Ph.D., is professor of Old Testament exegesis and theology and chair of the Old Testament Department at the Seventh-day Adventist theological Seminary at Andrews University, Berrien Springs, Michigan.
Will

Does it take more faith to believe in Creation vs Evolution ?

Millions of years ago..... Yes God was around then, but the Earth was without form and void. But some are trying to convince themselves and others that the Earth evolved over millions of years vs Creation week spoken into existence by God. But what proof is there? "Choose You This Day" is an awesome little read that is thought provoking and power packed. Read it today!