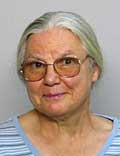 Helen Godfrey Pyke
Helen Godfrey Pyke has been teaching writing at Southern Adventist University (SAU) since 1987, where she sponsors SAU's Writers Club. Prior to that Helen taught elementary and secondary school. Her writing career began while she was still in college. Her first book, A Sword Unsheathed, was published in 1969. Helen has written and co-written several books over the years, including No Peace for a Soldier and Any Sacrifice But Conscience.
Helen is a native of northern Minnesota and a graduate of Walla Walla College. She is married to Teddie Pyke. Together they have three grown children and seven grandchildren. Their sons Greg and Doug are loggers in Alabama. Both Helen and her husband come from families historically involved in logging, which is the impetus for her most recent book Pinch River.
Gardening, historical research, and walking are Helen's passions. She loves to cook fresh produce from her garden as well as pizza and chocolate chip cookies which are as varied as the stories she writes.
Alice

Fantastic Book about the Lumber Camps in Michigan late 1800's

This is an outstanding book.I the late 1800's a 12 year old Swedish boy who is very tall for his age and his dad come from Sweden to work on a farm and a logging camp to save money to buy a farm and bring mama and his 3 siblings from Sweden. Dad pays little attention to his son and begins drinking and gambling the money away. The boy gets hurt on the river pushes logs, gets a broken leg and his dad abandons him. HE is taken in by a woman with an abusive husband when he is 13 years and then a farm family who adopts him as their own. Does the boy bring mama and sister over to America? Read and see.
Outstanding book for any age. My brother and I both in our 60's read and loved this book.