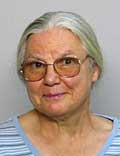 Helen Godfrey Pyke
Helen Godfrey Pyke has been teaching writing at Southern Adventist University (SAU) since 1987, where she sponsors SAU's Writers Club. Prior to that Helen taught elementary and secondary school. Her writing career began while she was still in college. Her first book, A Sword Unsheathed, was published in 1969. Helen has written and co-written several books over the years, including No Peace for a Soldier and Any Sacrifice But Conscience.
Helen is a native of northern Minnesota and a graduate of Walla Walla College. She is married to Teddie Pyke. Together they have three grown children and seven grandchildren. Their sons Greg and Doug are loggers in Alabama. Both Helen and her husband come from families historically involved in logging, which is the impetus for her most recent book Pinch River.
Gardening, historical research, and walking are Helen's passions. She loves to cook fresh produce from her garden as well as pizza and chocolate chip cookies which are as varied as the stories she writes.