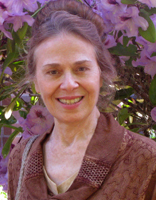 Rosalie Hurd
Rosalie Hurd, mother of five children raised on a vegetarian diet, has a degree in Home Economics with a minor in Education and Business. She is actively involved in the Ten Talents ministry promoting healthful vegetarian cooking and proper nutrition for over forty years.
Freddie

I Love TEN TALENTS!

I purchased a flour mill to make bread and while placing my order the customer rep asked "Do you have the Ten Talents Cookbook?"
I said "no, but I have lots of other cookbooks". She said, "well you can get rid of all of them…you only need to get Ten Talents." so I bought the book and must say…It's the best cookbook ever...I'm learning so much, I Love it!"



Freedom

My Favorite Cookbook!!!

Recently I made the Lentil and Fennel Stew on page #503 in Ten Talents. It's my absolute favorite soup! I usually make a big pot and freeze some for another meal.Well I asked my children (2 & 4 yrs old) if they wanted lentil soup or something else (don't recall what) for dinner. They both enthusiastically said "soup"!!! We sat down to eat and my 4 yr old says "Mommy, I just LOVE this soup, I could LIVE on it"!! I thought that was pretty awesome! My 2 yr old craves the Baked Chee Spagetti on page 323. She asks for it for breakfast several times a week. My husband and kids and I can't get enough of the Super Sunburgers (pg 311) I made a batch of 100 and froze them and we've already eaten all of them! Thank you Mrs. Hurd for being such a culinary genius!!
JoDee

Worth More than the Price!

I am a cooking school instructor and have an extremely large selection of cook books and reference materials. I used to teach at the Lifestyle Center of America. We helped people learn to eat and live healthier. This cook book is my absolute favorite. I have decided to order this book by the case to share with my cooking classes. They say a picture is worth a thousand words. This book is filled with pictures and fool proof instructions that teach a person to bake bread, sprout, can foods, make delicious beverages, even includes vegetable juices; tips for tools of the trade, pictures a variety of grains, seeds, nuts, beans; besides more recipes than you will ever find for the price in another cook book. All of the recipes are healthy and delicious. Whether you love your meat and just want to include more vegetables and fruits in your diet or you are an avowed vegan vegetarian; I believe that this cookbook will be a great resource for any cook. Try it: Taste them and see, the recipes are delicious!

JoDee
Freedom

Most comprehensive vegetarian cookbook!

I spend a lot of time in the kitchen and love to cook. The cookbook I always reach for is Ten Talents! The recipes are easy to follow, and taste delicious just as promised. My children love Mrs Hurd's recipes and ask me to make them over and over! The way she incorporates so many foods you would never think to use, into easy, delicious, highly nutritious meals is nothing short of genius! Cooking healthy vegetation dishes is simple with Ten Talents! Thank you Mrs. Hurd, you are my constant inspiration in the kitchen!