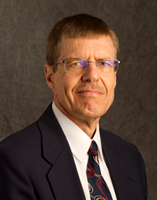 Jerry Allen Moon
Jerry Moon, PhD, served for many years as chair of the Church History Department in the seminary at Andrews University and editor of Andrews University Seminary Studies. He coedited The Ellen G. White Encyclopedia, His dissertation, "W. C. White and Ellen G. White: The Relationship between the Prophet and Her Son," was published by Andrews University Press in 1993.
John W. Reeve
John W. Reeve, PhD, is assistant professor of church history at the Seventh-day Adventist Theological Seminary at Andrews University. He teaches early church, middle ages, and reformation history. John is also editor of Andrews University Seminary Studies. His doctoral dissertation focused on the theological anthropology of Theophilus of Antioch and the shift in the understanding of the human soul and judgment in late second century Christianity.
Woodrow W. Whidden II
Woodrow Whidden, Ph.D., served for several years as professor of systematic and historical theology at the Adventist International Institute for Advanced Studies. Prior to this he taught in the Religion Department at Andrews University (1990 -2006). He holds a PhD degree in historical theology from Drew University. His books include Ellen White on Salvation and Ellen White on the Humanity of Christ.